.
WASHINGTON —
There are few clues left at the U.S. Capitol that American democracy hung in the balance a year ago.
Shattered windows have been replaced, blood wiped off the marble floors, tear gas residue cleaned from historic art.
As far as anyone walking around the building can see, the country has swiftly recovered from the Jan. 6, 2021, attack by thousands of Donald Trump supporters who unsuccessfully sought to block the certification of Joe Biden's electoral victory. But the lies that fuelled the riot are still deeply embedded in American politics.
Instead of providing a foundation for national unity, Jan. 6 became a launchpad for disinformation and new state laws to restrict access to the ballot box.
Today, most Republican voters believe the last election was stolen, and many of the party's politicians either believe the same falsehoods or are afraid to contradict them.
Last month in Minnesota, five Republican candidates for governor were asked whether President Biden had won last year's election. None of them said yes.
::
The violence last Jan. 6 might have appeared spontaneous, but then-President Trump had spent months feeding his supporters lies about the election. He had warned that voter fraud would occur during his campaign and claimed victory on election night, even though millions of votes were still to be counted.
Days after Biden was declared the winner Trump started filing lawsuits across the country. Although Trump's claims were quickly rejected by the courts as being un meritorious, his efforts to reverse the election results did not end.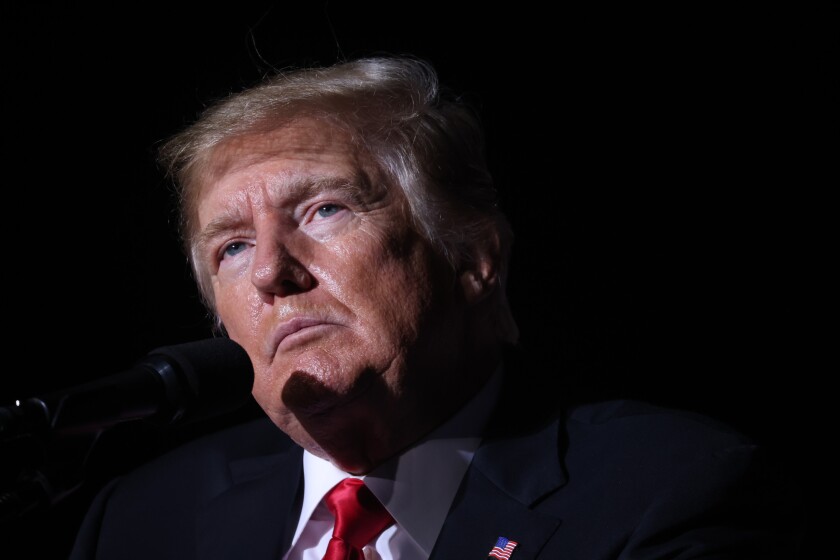 The claims became more untethered from reality, and the methods became more aggressive.
Trump called on the Justice Department for assistance and to prevent the certification of the election. His allies demanded investigations into conspiracy theories surrounding voting machine tampering, military satellites and foreign meddling from Venezuela and China.
Trump called a Georgia election official and asked him to dig up enough ballots — "I just want to find 11,780 votes," he said in their recorded conversation — enough to overturn Biden's win in that state.
"There was a little cabal at work trying to turn this democracy into an autocracy," Rep. James E. Clyburn (D-S.C.) told reporters last month.
By this point, Trump was already fixating on Jan. 6, the date when Congress would ceremoniously certify the results of the election. It was Vice President Mike Pence who had to supervise the process. Trump believed that Pence could stop it.
Trump was angry when Pence refused to comply. He spoke to his supporters on Jan. 6, a cloudy and cold Wednesday in Washington. He told them, "If you don't fight like hell, you're not going to have a country anymore," and then said, "We're going to the Capitol."
::
What happened next — the flood of rioters smashing into and through police lines, the bloody melee, five deaths — shocked even those who had spent the last four years closely scrutinizing Trump and trying to hold him to account.
"We anticipated just about everything that could go wrong," said Rep. Adam B. Schiff (D-Burbank), chair of the House Intelligence Committee and the lead House manager in Trump's first impeachment trial, "except for what actually did."
Little about what occurred at the Capitol is a mystery. Many of the insurrectionists shared their exploits via social media. The horror was also broadcast live on national television.
Even some of Trump's most ardent supporters were left aghast at the mayhem, according to text messages recently released by a special House committee investigating the assault.
"It's gone too far and gotten outof hand," Donald Trump Jr., Trump's oldest son, wrote in a text message to Mark Meadows (White House chief of staff).
" The president must tell people at the Capitol to go home," Laura Ingraham (a Fox News host who is also one of Trump's most loyal allies), texted Meadows. He is destroying his legacy."
He is destroying his legacy."
Once the building was cleared, Ingraham condemned "today's antics at the Capitol" in her prime-time show, but insisted that "more than 99%" of the Trump supporters were peaceful. Ingraham also suggested that "antifa sympathizers" may have been scattered throughout the crowd, an allegation which has yet to be proven.
The shift from outrage to equivocation or denial has characterized the Republican Party's response to Jan. 6. The Republican Party's response to Jan. 6 has been marked by a shift from outrage to equivocation or denial.
"The Republican Party must make a decision," Cheney tweeted Sunday. "We have two choices. We can be loyal to the Constitution or to Donald Trump. But we can't be both."
Even Trumps vice president — whose name was heard through the Capitol as protesters shouted, "Hang Mike!" — has managed to get over the events of the day. "They want to distract from the failed Biden administration's agenda by focusing only on one day in January," he said to Fox News in October. "They want to use that one day to try and demean the character and intentions of 74 million Americans" — referring to Trump's vote total, which was 7 million less than Biden's — "who believed we could be strong again and prosperous again."
Despite being barred from Twitter and Facebook, Trump remains influential among Republicans. Some politicians who had once condemned violence in the past have refused to confront Trump or his attempts to undermine democracy. House Minority Leader Kevin McCarthy (R-Bakersfield) falsely claimed in May, "I don't think anybody is questioning the legitimacy of the presidential election."
Trump never stopped. Trump never stopped.
"Please know that her memory will live on in our hearts for all time," he said in a video message recorded for an October event in Babbitt's honor.
Trump had originally planned to hold a news conference at Mar-a-Lago in Florida on Thursday to commemorate the anniversary. But on Tuesday he canceled the event, saying the media "will not report the facts." He plans to continue holding rallies to repeat the same lies that led to the Jan. 6 assault, with the next scheduled for Jan. 15 in Arizona. The former president's lies remain a key part of his plan for dominating the Republican Party. Experts warn that this disinformation campaign could lead to more attacks in the future, particularly when it is combined with fears of white people losing their power in a country diversifying. Javed Ali, an ex-senior director for counterterrorism at the National Security Council, stated that he doesn't believe we are out of trouble at all. "And I think this threat is going to last for years, if not decades."
::
Trump uses support for his lies as a litmus test for Republican candidates, dangling endorsements in front of those who cast doubt on the 2020 election's validity. In Arizona, he supported Kari Lake, an ex-television broadcaster who falsely claimed Trump won the state. He pushed David Perdue (an ex-Senator) to run against Governor in Georgia's GOP primary. Brian Kemp refused to stop the Biden victory being certified.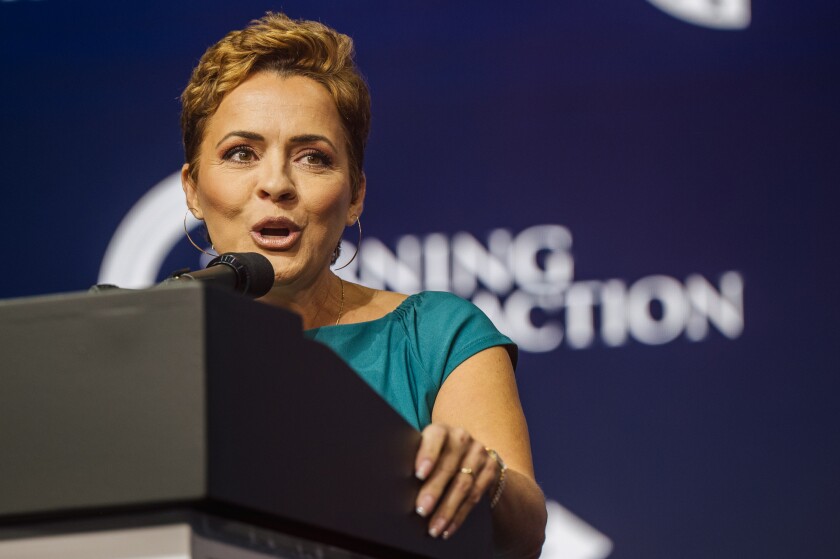 Polls show that most Republican voters believe Biden's victory was fraudulent. These beliefs have prompted state legislators to intensify long-standing campaigns for limiting voting options and changing how elections are managed.
Georgia, for example, made it more difficult to request mail ballots. It also prohibited election officials from sending unsolicited applications to voters for those ballots. People waiting to vote are not allowed to receive food or water.
In addition, the Republican-controlled Legislature appointed a new chair of Georgia's election board, which has been empowered to suspend county election officials for alleged malfeasance or mismanagement.
Similar efforts to change voting rules have stalled in other battleground states such as Wisconsin, Michigan and Pennsylvania, where Democratic governors have vetoed legislation passed by Republican lawmakers. These governorships are up in the election this year, which opens up a possibility for the proposals to move forward.
"This five-alarm fire is what we are seeing," Richard L. Hasen of the UC Irvine School of Law, an election expert. "People are exhausted between Trump, COVID and I think people have turned out. And I think this is very dangerous."
::
When Biden was inaugurated outside the Capitol two weeks after the riot, he walked through a door with cracks in its glass panel. This was a sign that this transfer of power, unlike any other since the Civil War had been peaceful, was not taking place.
But the window was quickly fixed, just like all other parts of the building.
Damaged materials have been boxed up and handed off to the Justice Department for use as evidence in ongoing federal prosecutions of rioters. (More than 700 people have been arrested on federal charges tied to the insurrection.) The Architect of Capitol, an agency that maintains the building, plans on reclaiming the wreckage and making it artifacts. They could be used as public testimony to the strength of American democracy, or its fall.