Ghanaian actress, Vicky Zugah has just shared a chat a man had with her about his desire to enter her panties and pay her in return.
From the chat, the man did not want to date or be friends with Zucky Zugah and hope thing turn out good later. He wanted to go straight for the honey pot and he was shy about it all.
SEE ALSO: Some female celebrities beg rich men to 'bang' them for money -Afia Schwarzenegger
Being a game man, he knew these things are not for free and offered to pay Vicky Zugah in dollars if she agrees to sleep with him.
Vicky who found the man's action disrespect screenshot the chat and shared it on her page to shame the man who was begging in her inbox.
However, she did not show the identity of the man but threatened to do so the next time any man jumps into her inbox and displays such bs.
SEE ALSO: NAM1 reacts to the viral Whatsapp Chat of him admitting to fraud
Vicky Zugah captioned:
"If you ever slide in my dm to spew this BS I will disrespect, name, shame and block you. Let's respect ourselves. Yes, I'm single but no I won't tolerate rubbish in my dm. THANK YOU."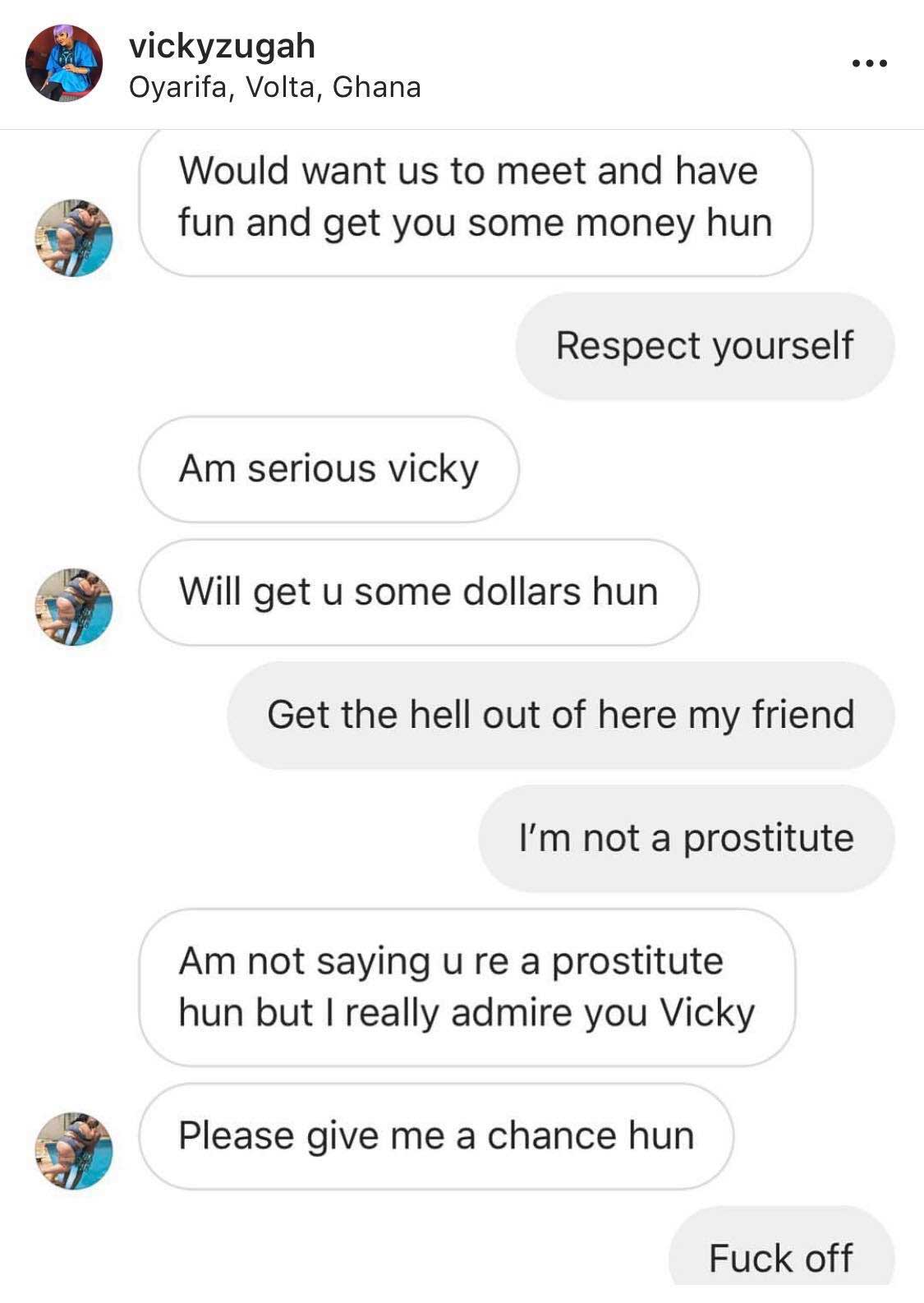 SEE ALSO: Two ladies gang-raped and killed afterward at Abrepo, Kumasi
A few weeks ago, controversial Afia Schwarzenegger shared screenshots of some men begging to lick her in her inbox to deter others from continuing with that foolish act.
The post Vicky Zugah exposes chat of a man begging to chop her Tonga appeared first on GHANAPAGE™.