They say experience is the best teacher and Ghanaian actress, Nadia Buari's advice to women seem to might have experienced some hiccup in her relationship with her husband.
According to Nadia, who think to give their men sex will keep them is not as they think but rather their willingness to be kept.
Nadia Buari believes that sex cannot keep a man either does having a baby for him will keep him.
Read also: Nadia Buari releases some heavy punchlines as she raps for her daughter
In a post on Instagram, the beautiful actress wrote: "..so I just got off the fon with a childhood friend of mine who's having relationship issues and feels her last resort is to get off the pills and have a baby for him. In her naïve mind, that will certainly hold him down. Well..I ain't no counselor, neither I'm i clairvoyant, but I do know this however, that, a baby WON'T keep a man, being beautiful WON'T keep a man, sex WON'T keep a man, Heck, being a good woman, BARELY keeps a man. The only thing that'll keep a man, is A MAN THAT WANTS TO BE KEPT!"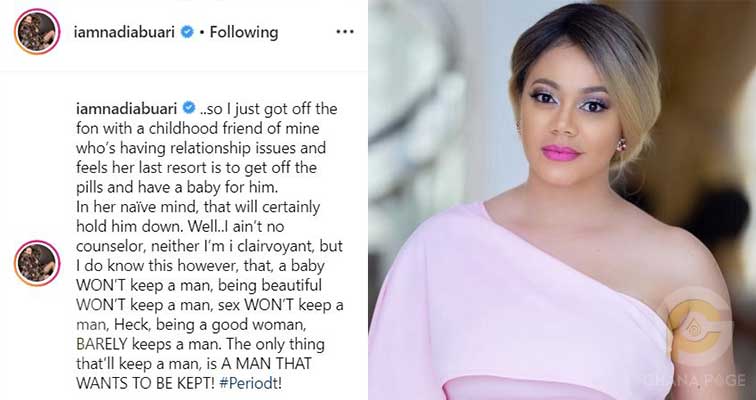 Read also: Shatta Michy buys her first house with her own money
Nadia is married with two daughters and up till now one thing about Nadia Buari and her two daughters still remains a misery as to why the beautiful actress still keeps the face of her daughters from the public.
The post Giving men sex won't keep them – Nadia advises women appeared first on GHANAPAGE™.